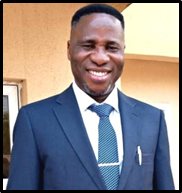 Mr. Amidu Ayodeji Azeez is an indigene of Abeokuta North in Ogun State and was born on 23rd July, 1970.
Prior to his appointment as the Bursar of the Polytechnic, Mr. Azeez was a Chief Accountant in charge of expenditure. He holds a Bachelor of Science degree in Accounting from University of Lagos. He is a Fellow of Association of National Accountants of Nigeria and Member Institute of Cost Management.
Mr. Azeez joined the service of the Polytechnic in 1997 as Accountant II and was posted to Budget and Planning Unit of the Bursary, he rose through the rank to become a Chief Accountant.
The newly appointed Bursar will replace the current Bursar, Mr. Kehinde Paul Adegbemi whose second term in office expires on 16th March, 2020.
He is happily married with children.
The management on behalf of the Governing Council, Staff and Students congratulates him and wishes him a successful tenure in office.