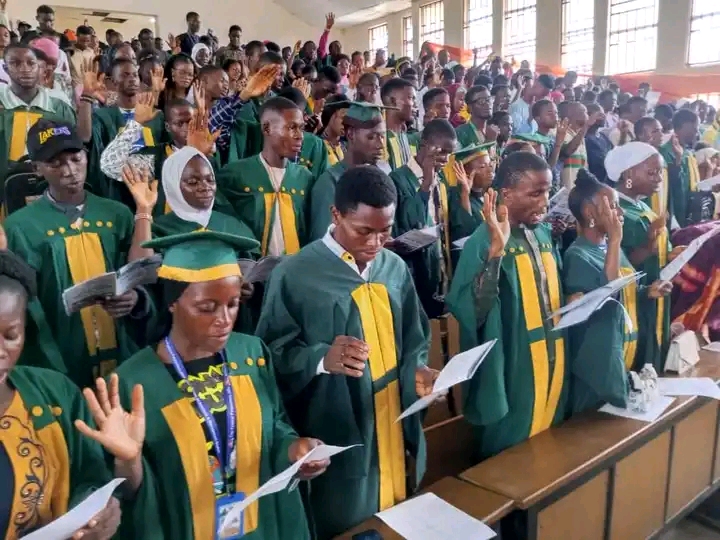 Rector of the Federal Polytechnic Offa, Engr. Dr. Kadiri Kamoru Oluwatoyin FNSE has urged the newly admitted students to shun cultism, indecent dressing, Yahoo Yahoo, and other social vices capable of truncating their studentship in the Polytechnic.
The Rector disclosed this in his address during 29th matriculation ceremony held on Friday 9th of June 2023.
Engr. Dr. Kadiri while congratulating the new students for gaining admission into the Polytechnic admonished them to be of good conduct, focused, diligent, and determined to succeed as their knowledge and potential will be required to unlock cures for diseases, create technologies that will improve lives and develop the nation among other limitless possibilities.
According to him,"…I want to motivate you by sharing these few pieces of admonitions with you; which I believe will be a source of inspiration and encouragement for you on the adventures that awaits you. I want you to note that primarily; the world needs you but more importantly; your country – Nigeria, needs you. I strongly believe that each of you has unique gifts, talents, perspectives, and experiences that the world desperately needs. No matter what fields you pursue, you will soon realize that there are problems to solve, injustices to fight, and truths to discover. Your knowledge and potential will be required to unlock cures for diseases, create technologies that improve lives and develop the nation, craft policies that promote freedom and justice. The possibilities are limitless."
He, therefore, urged the students to pursue their goals with determination, commitment, and discipline.
"Believe in yourself. I am sure you are braver than you think, more talented than you know, and capable more than you imagine. When times get tough and challenges seem impossible, draw on your inner strength and perseverance and be rest assured that the Almighty God will help you as you strive to actualize your mission and vision towards achieving your goals in life," he added.
Dr. Kadiri speaking further advised the students to avoid night crawling, to be security conscious, and always channel complaints to Students' Affairs or SERVICOM for resolution.
While noting that the Polytechnic is blessed with highly trained, qualified, and resourceful lecturers who are ready to nurture students to attain the best, he encouraged the students to take advantage of the Polytechnic's facilities and all the equipment put in place to make their learning effective and productive.
The JAMB Registrar, Professor Ishaq Oloyede represented by the Director, JAMB, Kwara State Branch,  Mallam Aliyu Jubril Congratulated the students on their matriculation and charged them to imbibe a good reading culture and be serious with their academics.
Similarly, the Proprietor of Lens Polytechnic, Dr. Azeez Yisa congratulated the students for gaining admission into one of the best Polytechnics in Nigeria, adding that the students are lucky to be admitted into the Polytechnic with the best facilities and resources. He, therefore, charged the students to stay focused and distance themselves from any social vices. He equally enjoined students to strive hard and emulate the products of the Polytechnic who are outstanding and resourceful in the labor market.